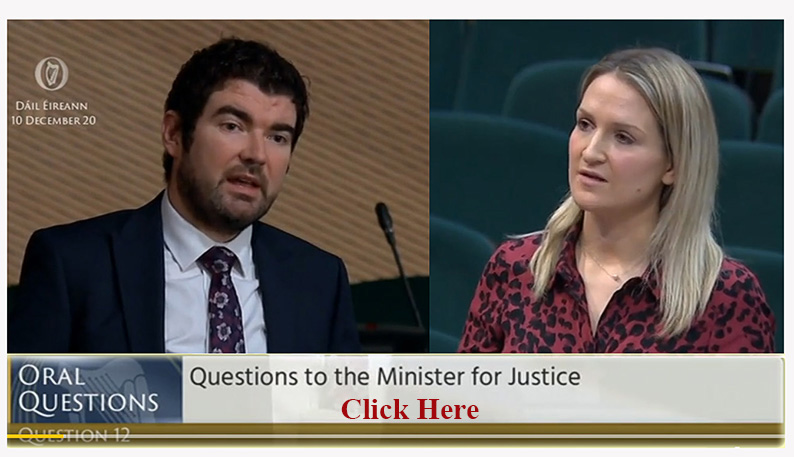 Kerry Fine Gael Deputy Brendan Griffin, TD raised the long running John Twiss pardon issue with Minister for Justice Helen McAntee, TD in the course of a Department of Justice question time during Dáil Éireann business at the Convention Centre in Dublin on Thursday morning.
Deputy Griffin has been involved from the start  in the case for the posthumous pardon for Cordal man John Twiss who was wrongly convicted and ultimately hanged for a crime of murder which, has now been proven beyond all reasonable doubt, he could not have committed.
Chairmanship of Johnnie Roche
The Michael O'Donohoe Memorial Heritage Project took up the case under the chairmanship of Johnnie Roche in early 2017.
With the assistance of the late Colm Kirwan and project manager, Janet Murphy they put a case file together for Deputy Griffin who in turn presented it to then Minister for Justice Charlie Flanagan, TD.
Ministerial Assurances for Deputy Griffin
Asking current Justice Minister, Helen McAntee, TD for an update in the case yesterday morning, Deputy Griffin was assured by Minister McAntee that the John Twiss case has not and will not be forgotten and that any delays incurred are all down to current Covid-19 restrictions on access to records.
Hanged in Cork County Jail
John Twiss of Ardmona  was hanged in Cork County Jail on February 9th 1895 for the murder, on 21 April 1894, of James Donovan, a caretaker of an evicted farm at Glenlara near Newmarket in County Cork.
Twiss, who resided with his sister Jane in a cottage in Cordal, was widely believed to have been innocent of the murder.

You can contact The Maine Valley Post on…Anyone in The Maine Valley Post catchment area who would like to send us news and captioned photographs for inclusion can send them to: jreidy@mainevalleypost.com
Queries about advertising and any other matters regarding The Maine Valley Post can also be sent to that address or just ring: 087 23 59 467.