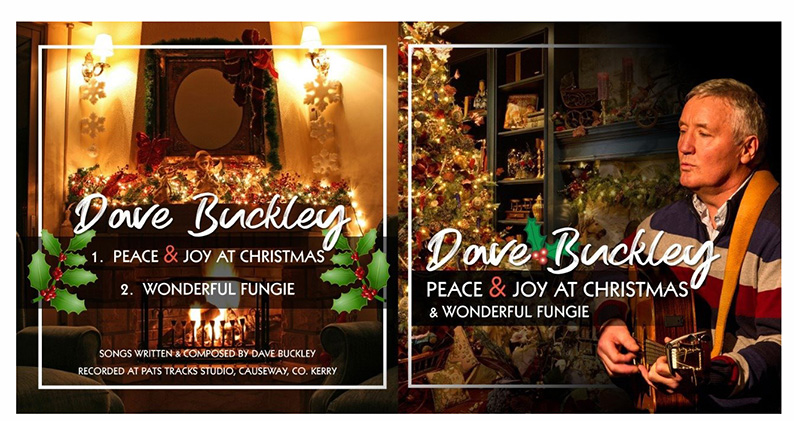 Is there anyone in the whole wide world in the pens which hold singers / songwriters who didn't / doesn't yearn to write a Christmas song.
The Old Dromulton Road native, Dave Buckley is now firmly in that pen after a compositional struggle with his 'Peace & Joy at Christmas' offering in honour of the Holy Season and to posterity itself.
On the Shop Shelves Now
"I've always wanted to put a Christmas song together and I spent six weeks on it and nearly gave up on it at one stage," said Dave this week as his debut Christmas song made it onto the shelves of shops around the county.
"Finding a catchy air was difficult as well. Pat Donegan from Pats Tracks Studios added some lovely instrumentation to it.
Delighted With The Result
"We argued over some parts but I'm delighted with the end result and especially with the reaction of people to it," said Dave with the air of a man who feels and knows the job is done.
"While I was in there I recorded a song about the Wonderful Fungie as well and I've got huge encouragement from my wife Catherine and family as well.
Regular at Handed Down
"The CD is available for around €5 in The Curiosity Shop in CastleIsland and in Dan Horan's Fruit and Vegetable and Health Stores and in Focus in Tralee," said Dave who has been a regular and audience pleasing guest of PJ Teahan's at the Handed Down nights in Scart.
You can also get the CD directly from Dave Buckley on:  087  284 2879

You can contact The Maine Valley Post on…Anyone in The Maine Valley Post catchment area who would like to send us news and captioned photographs for inclusion can send them to: jreidy@mainevalleypost.com
Queries about advertising and any other matters regarding The Maine Valley