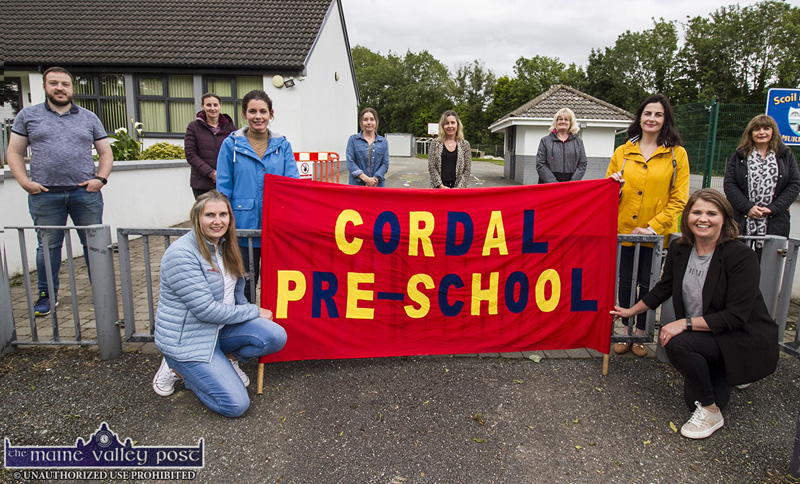 Early last summer a group got together under the title, Cordal Community Pre-school and After-school Committee with a major local plan for funding and a very single-minded attitude.

It was, and still is, a community run project and a non-profit childcare facility which operates on the grounds of Kilmurry National School in Cordal, Castleisland, Co. Kerry.
This service is run by a voluntary committee and presently employs up to four staff since the year 2000.
Significant Milestone Reached
"In 2019 a significant milestone was reached when Kilmurry National School granted us permission to rent land on the school grounds in order to construct a purpose-built childcare facility," said committee spokesperson, Noreen O'Connor at the launch of the plan.
The year 2020 will be remembered as a year in which be best laid plans were either wrecked – or left foundering at least – but not this one.
Full Time Childcare
"This is a fantastic achievement for our community and will enable families to receive full time childcare from the hours of 8.30am till 6pm Monday to Friday all year round in future," Noreen continued.
While the lock-down mentality and reality bit deeply into fundraising efforts everywhere, the mainly female committee in Cordal forged ahead with their plans with all due care and attention to the imposed restrictions of the time.
"Our new build which is currently under construction will cost approximately £160,000.
"With accumulated savings and financial assistance, we endeavour to have this purpose-built facility operational very soon for the community of Cordal.
No Government Funding
"Unfortunately, this much needed project has received no government funding to date so therefore we are setting up a Go Fund Me Page to reduce the financial burden on our non-profit organisation.
"We are now asking the public to come on board from the communities of Cordal, Castleisland, Scartaglen, Currow and neighbouring towns and villages.
"We are also calling out to young men and women who live abroad that have used this facility in their younger days to show their support and help us to Build Our Future.
Keeping Community Safe
"This is why we have chosen this initiative as it keeps our community safe in these strange times.
"The new facility will help the children of our future to be nurtured, challenged and foster independence in a safe warm and stimulating environment," Noreen said.
That fortune favours the brave was proven yet again in this instance and the committee turned to local videographer, Brendan Reidy to help it  acknowledge the contributions received and to show just what has been achieved by this particular outpouring of community generosity.
A Virtual Tour of Facility
"Brendan created a virtual tour of Cordal Community Pre-school and After-school which has been kept going by dedicated staff, parents and a lot of contributions from different committee members down throughout the years.
"All involved encouraged growth and helped this current committee to be in a position to upgrade to this new facility.
Successful AGM
"We had a successful AGM on December 17th via Zoom Platform and we are delighted to have elected new committee members with whom we look forward to working with.
"Hopefully we will be in a better position to obtain grants and that can only enhance the service we provide here," Noreen concluded.
You can join the virtual tour of the new facility with a click on the image below.

You can contact The Maine Valley Post on…Anyone in The Maine Valley Post catchment area who would like to send us news and captioned photographs for inclusion can send them to: jreidy@mainevalleypost.com 
Queries about advertising and any other matters regarding The Maine Valley Post can also be sent to that address or just ring: 087 23 59 467