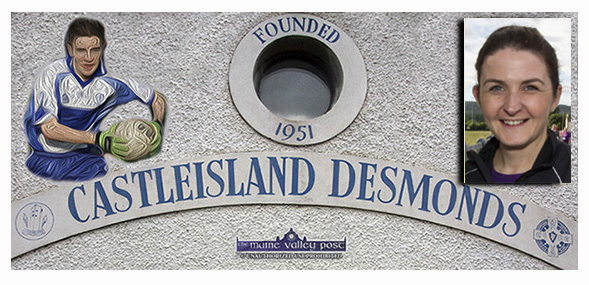 Castleisland Desmonds annual general meeting took place remotely on Friday, January 29th and the following officers were elected for 2021:
President: Donal Kelliher; Vice Presidents: Mary Horan, Dr. Dave Geaney, Billy Broderick, John Joe Walsh and Kevin Dillon.
Chairman: Willie Dom O'Connor; Vice Chairman: Michael John Kearney; Secretary: Denis O'Donovan; Treasurers: Angela Ring O'Donoghue and Hugh O'Connell.
PRO: Eilish O'Leary; Insurance Officer: Denny Lyons; Development Officers:  Martin Downey and Thady Twomey; Child Welfare Officer: Eileen Brosnan; Coaching Officer: John Breen; County Board Delegate: Sean McCarthy; North Kerry Delegate: Jimmy O'Connell; St. Kieran's Delegate: Jimmy O'Connell.
Secretary's Report
There is no doubt that 2020 was not the year we had anticipated in terms of GAA club activities. However, for a few months during the latter part of the summer we did manage to get some club game played.
One positive from the Covid-19 restrictions was that the club had an unprecedented level of interest from players in training and being part of club teams.
Almost 40 players attended senior training during the season, when training was permitted, and this trend was replicated down through the various grades.
Senior Team
Our senior team started the year with a County League game vs Geneeveguilla in early March. Little did we know that that would be the end of the County League.
In late summer the intermediate championship began with qualifying games against Ardfert, Rathmore and Laune Rangers. Our team subsequently qualified for the quarter final playing Dromid Pearses and winning this game well to qualify for the semi-final. This competition remains unfinished.
North Kerry Championship
In the North Kerry Championship, we played two games defeating Finuge and Ballyduff to qualify for the semi -final where we were due to play Beale. This competition did not finish.
Junior Team
Given the huge number of players that were training during the season we entered the Junior County League, drawn in a group with Cordal, Ballydonoghue and St. Senan's. Only one game was played in this competition before restrictions were imposed.
Minor Team
Our Minor team took part in the Minor County league and having been drawn in a group where some clubs withdrew it rendered the group and competition not being very competitive.
Management and Backroom Staff 
A huge thank you the management and backroom staff who looked after all our teams this year in very difficult circumstances and where huge uncertainty prevailed at various times.
A huge thank you to all the players who gave massive commitment to the club during the year and for their cooperation during very frustrating times.
Safety And Welfare
As with every sector of society we had to put in place a range of measures to ensure the safety and welfare of all our players and mentors.
All teams had to put Covid officers in place and our thanks to all those who carried out this role so effectively.
Jimmy, Colm and Mary Remembered
The club sadly lost members of our club executive during the year.
We offer our sympathies to the families of Jimmy Greaney, Colm Kirwan and Mary Murphy all of whom made a significant contribution to the development of our club over many years.
We offer our sympathies to our members who have lost family members during the year. May they rest in peace.
Contribution and Commitment
Thanks to the officers and members of our executive for their contribution and commitment to the club during the year.
We look forward to 2021 with optimism in the hope that we will get back training and playing games in the months to come. Denis O'Donovan, secretary.
PRO's Report
Castleisland Desmonds GAA Club PRO, Eilish O Leary, would like to sincerely thank all of the media for their continued support and coverage of the club activities in what was a very extraordinary year for every GAA club.
The role of PRO would not be possible without the club's team officials as they keep us updated and informed of all of the results of matches and team pictures. A special word of thanks to them.
We look forward to fine weather and the longer evenings to come and we hope that 2021 will prove to be a more 'sporting year' where we will see crowds back at the matches, supporting and cheering on the respective teams.

You can contact The Maine Valley Post on…Anyone in The Maine Valley Post catchment area who would like to send us news and captioned photographs for inclusion can send them to: jreidy@mainevalleypost.com  Queries about advertising and any other matters regarding The Maine Valley Post can also be sent to that address or just ring: 087 23 59 467.