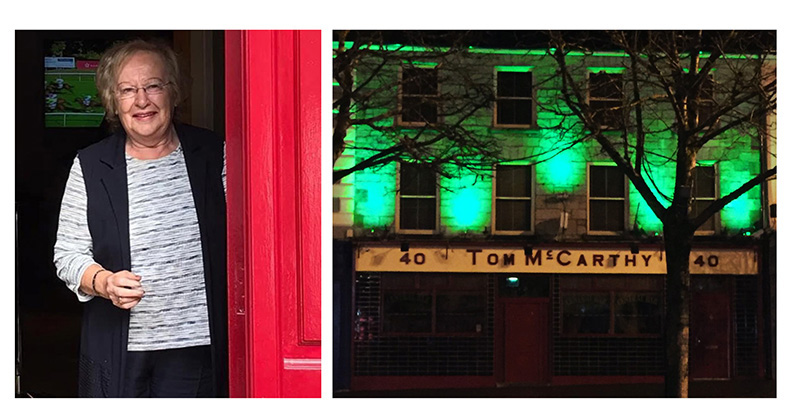 It was this time last year that the tsunami we came to know as the coronavirus was beginning to take a stranglehold on the cultural and commercial life of the country and the world.
In all innocence we hoped it wouldn't impinge on our famous St. Patrick's Day celebrations and there was a would it / wouldn't it air about it.
Customary Last Call
The closure of Tom McCarthy's on the Saturday night of March 14th after the customary last call, seemed to pull the metaphorical shutters down on more than the pub trade.
And then things began to tumble off their perches from various pages of the calendar of events.
And it's been more or less that way ever since – you could say.
"On the 14th March we pulled the plug as we said then, on the Saturday evening.
It Was Party Off
"We closed the doors and didn't reopen on the Sunday. The DJ was cancelled and it was party off. Sure it was only for two weeks or so," said Tom looking back through the past year.
"The rest is well documented. Fast forward 12 months and with the exception of 15 days trading in September we have shut shop.
"Not that we've been relaxing. The background and underground work is all done and of course not forgetting the lick of paint….and varnish. 
Ready to Rock – Gently at First
"We are,like all the publicans in town, ready to rock. Gently at first. 
"We will be one of the last trades to be reopened and hopefully that wait will be worth it and we can consign lock-down closures to the past. 
"The wait continues but we will be back and it'll be grand," he said with more hope this time around.
You can co

ntact The Maine Valley Post on…Anyone in The Maine Valley Post catchment area who would like to send us news and captioned photographs for inclusion can send them to: jreidy@mainevalleypost.com Queries about advertising and any other matters regarding The Maine Valley Post can also be sent to that address or just ring: 087 23 59 467.