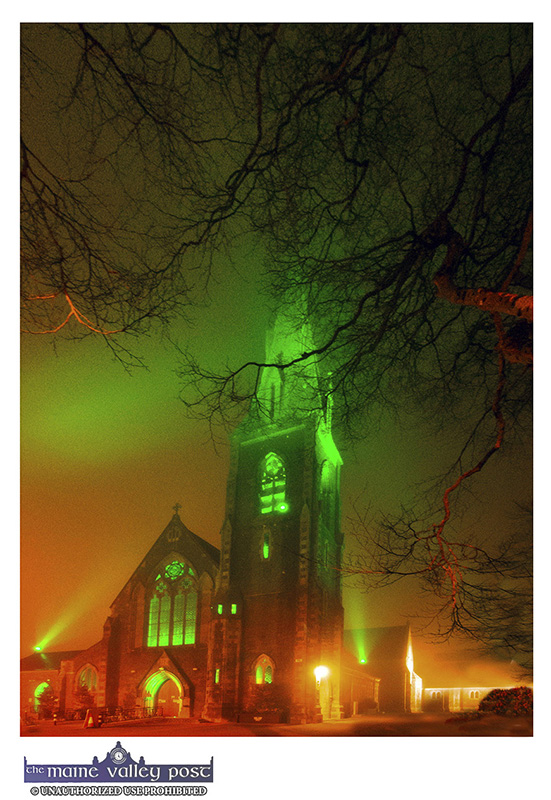 For the second year running there won't be feet on the streets of the country or of the greened up world today in honour of St. Patrick.
But that doesn't stop us sending greetings or pulling out the old fón póca and calling friends and family to spread the lapsed or suspended culture and joy of the day.
Fr. Brick Pushing the Boat Out
Castleisland PP Fr. Mossie Brick certainly pushed the boat out with the 'greening' of the Church of Saints Stephen and John.
The bell version of Hail, Glorious St. Patrick at Angelus time on Tuesday evening was a joy to behold and hear as it rang out along the river and around the valley.
Spire Standing Out
The lighting of the church was carried out last November and it gives the spire a well deserved stand-out status from near and far.
It has been expertly picked out by a set of three well directed and powerful spotlights and is now a focal point in the area for miles around.
A Shop Local Process
Parish Clerk, Noreen O'Sullivan said that the lighting was a pure shop local process. The lighting and all the material was supplied by O'Brien Lighting and the installation work was done by David 'Dago' Fleming and Tim Broderick.
Happy St. Patrick's Day to all and especially Castleislanders at home and abroad – where ever you may be.
Song We All Learned
And, in case you've forgotten the words of the song we all learned at school when we wore the St. Patrick's Day badges with the green and gold ribbon and the gold foil harps and the safety pins.
And, after you've read over the lyrics of the song, have a listen to the uplifting singing of the unidentified school choir.

And after that again, have a listen to another strong link with the past with an excerpt from the brilliant 'Give Up Your Aul Sins' and a little Dublin schoolgirl giving her hugely colourful version of the story of St. Patrick.
Happy St. Patrick's Day.
Lyrics
Hail, glorious St. Patrick, dear saint of our isle,
On us thy poor children bestow a sweet smile;
And now thou art high in the mansions above,
On Erin's green valleys look down in thy love.
On Erin's green valleys, on Erin's green valleys,
On Erin's green valleys look down in thy love.
Hail, glorious St. Patrick, thy words were once strong
Against Satan's wiles and a heretic throng;
Not less is thy might where in Heaven thou art;
Oh, come to our aid, in our battle take part!
In a war against sin, in the fight for the faith,
Dear Saint, may thy children resist to the death;
May their strength be in meekness, in penance, and prayer,
Their banner the Cross, which they glory to bear.
Thy people, now exiles on many a shore,
Shall love and revere thee till time be no more;
And the fire thou hast kindled shall ever burn bright,
Its warmth undiminished, undying its light.
Ever bless and defend the sweet land of our birth,
Where the shamrock still blooms as when thou were on earth,
And our hearts shall yet burn, wherever we roam,
For God and St. Patrick, and our native home.
Have a listen and take yourself back with this Veritas released version of the song with more verses than we ever knew existed: 
https://www.youtube.com/watch?v=8ODmviSuwJE
And do have a listen to this with a click here: https://www.youtube.com/watch?v=nT0n0G-3AKc

You can contact The Maine Valley Post on…Anyone in The Maine Valley Post catchment area who would like to send us news and captioned photographs for inclusion can send them to: jreidy@mainevalleypost.com Queries about advertising and any other matters regarding The Maine Valley Post can also be sent to that address or just ring: 087 23 59 467.