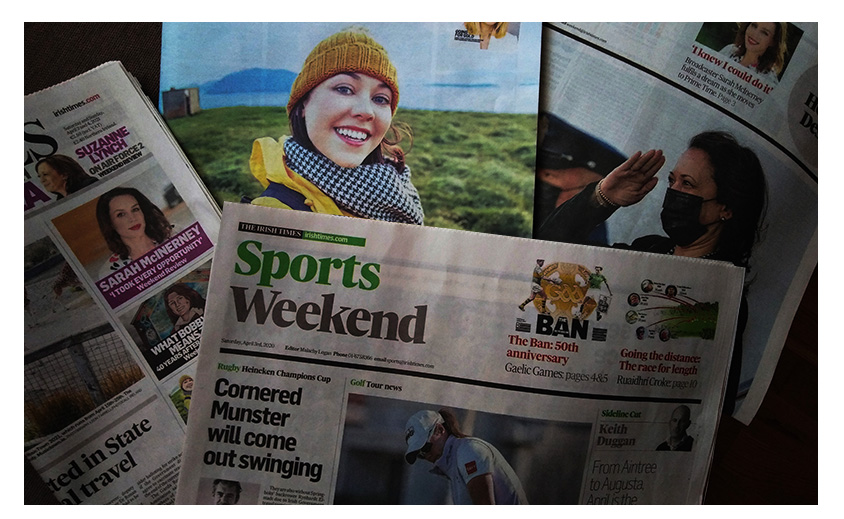 Four women at the top of their game feature, one per section, in today's edition of The Irish Times.
Among those making the cut is Castleisland model, Aishling O'Connell in the 'Magazine' part – where she has the front page all to herself.
On the main front page, Drivetime co-presenter and soon to be Primetime debutante, Sarah McInerney features. And she has a full page feature and photograph devoted to her on page three of the 'Weekend Review.'
Exiting Air Force Two
Also in the review section there's a top half , front page photograph of US Vice President Kamala Harris and her smiling eyes over her mask as she salutes on exiting Air Force Two.
And on the front page of the Sports Weekend pull out is a full length photograph of the Co. Cavan golfer, Leona Maguire who's doing great gaisce in the Mission Hills Country Club in California.
Go Explore – Aisling Urges
That's the kind of company Aishling O'Connell is keeping in The Irish Times today as her image was chosen to urge us all to go and explore and find 25 ways to enjoy the outdoors around us.
And to cap a day on which women appear in prominent places.
I was down town here in Castleisland briefly this mid afternoon and two women boldly took their places in a once male dominated occupation.
Generations of Memorable Corner-boys
Castleisland has several great corners and generations of memorable corner-boys on its long credit list. There are men whose quips from the corners of yore are still being quoted to this day.
However, today could well have been a history maker as Mollie's Corner was occupied by two women.
One was seated on the south west facing side and the other out opposite her and they chatting away in a most seamless changing of the guard that I've ever seen. It was pure Tom Wren.
Easter Bunnies Spreading Cheer
And then two women dressed up as Easter bunnies wandered around the streets of the town waving and spreading a bit of badly needed cheer and they were getting it back in spades.
That and the stuff in The Irish Times all happened today, Easter Saturday 3-4-2021.
Well done Aishling O'Connell – what a mark of validation for what you're doing. And Happy Easter to all.

You can contact The Maine Valley Post on…Anyone in The Maine Valley Post catchment area who would like to send us news and captioned photographs for inclusion can send them to: jreidy@mainevalleypost.com Queries about advertising and any other matters regarding The Maine Valley Post can also be sent to that address or just ring: 087 23 59 467.