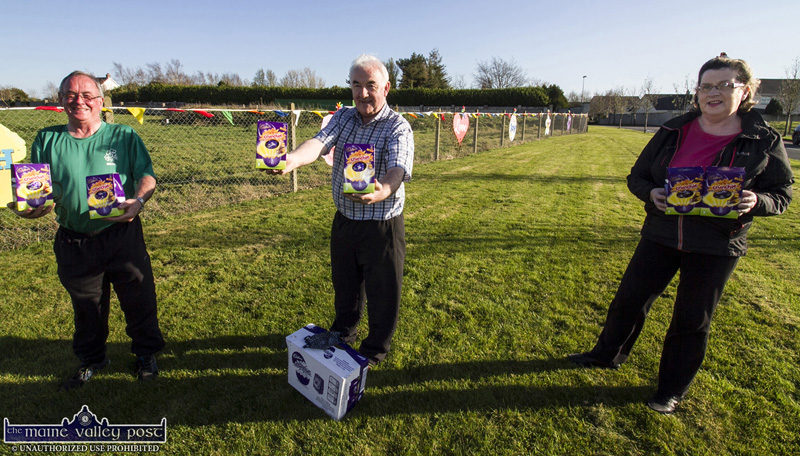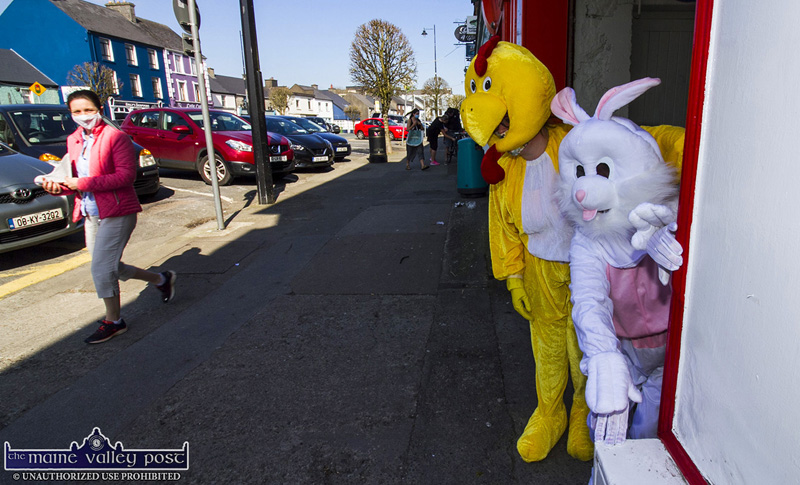 The residents of Cahereen Heights here in Castleisland woke up this morning to their second Easter Sunday under lock-down and in keeping with communities throughout the country and in many parts of Europe.
However, the residents of 'The Heights' found that their community leaders had been keeping them in mind and the ancient traditions of Easter alive – albeit with a chocolate twist.
Second Easter Egg Run
For the second Easter Sunday, local residents, Cllr. Charlie Farrelly with partner Martina and neighbour, Pat Hartnett have by now done the run of the 97 house estate with their thoughtful and greatly appreciated Easter Egg Run initiative.

Chocolate Eggs are left securely at the doors of children of all ages on the estate – which has also undergone something of a spirit lifting dressing up recently.
Printed Corriboard Poster
Cllr. Farrelly took delivery of a consignment of printed corriboard posters from a colleague up the country with messages of hope and encouragement and they have been fixed to one of the perimeter fences.
Easter Bunny and Pal on the Street
An then there was the two woman manifestation of another 'recent' tradition, that of the Easter bunny and chicken scattering seeds of good cheer on the street here on Saturday afternoon. The bunny was, apparently, a traditional symbol of fertility and life and growth reflecting all that was positive about the time of year in which Easter falls.
This Easter Saturday was the epitome of what you'd hope Easter would be without the cloud of uncertainty we're now under but, hopefully, emerging from.
Symbols of an Empty Tomb
Egg shells are said to have been used to symbolise the empty tomb of Jesus on Easter Sunday morning from which He rose after being interred following his crucifixion on Good Friday.
In some ancient traditions the shells were coloured or painted red in memory of the blood of Christ, shed as at that time of his crucifixion.
Egg Eating Prohibited
The origins of the custom are unclear and sometimes disputed but it is thought likely that the Easter egg came about in the middle ages as a result of the fact that western Christians were prohibited from eating eggs during Lent, but were allowed to feast on them when Easter arrived.
The Chocolate Avalanche
And this was a tradition practiced and on record from people and communities throughout Ireland of no more than a generation or so ago.
Either way, the chocolate avalanche is now beyond the control of man and beast and inextricably in the clutches of commercialism – where it is likely to remain.
Creme Eggs in 2020 and Crunchies in 2021
The 2020 brand of egg distributed around Cahereen Heights was the Cadbury Creme Egg variety and the residents will be crunching away this morning on their Cadbury's Crunchie Eggs and reading their Happy Easter messages from their estate management company representatives.
Happy Easter to everyone.

You can contact The Maine Valley Post on…Anyone in The Maine Valley Post catchment area who would like to send us news and captioned photographs for inclusion can send them to: jreidy@mainevalleypost.com Queries about advertising and any other matters regarding The Maine Valley Post can also be sent to that address or just ring: 087 23 59 467.