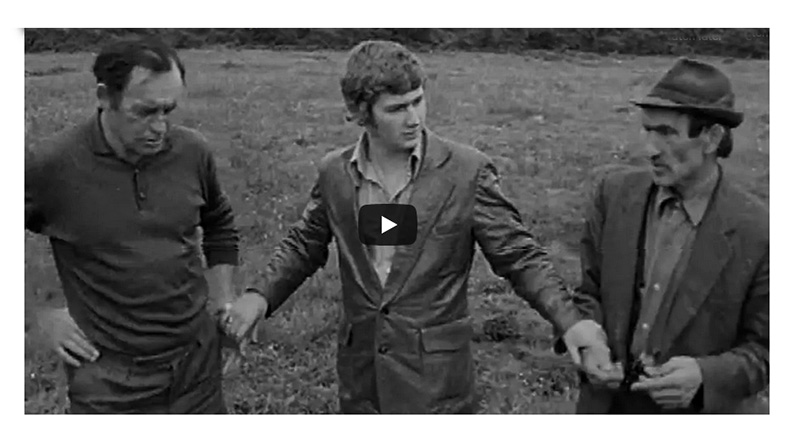 Here is yet another of these gems created by an RTÉ roving camera and crew from rural Ireland. In this instance it's from 1973 and the Kilcusnan area of Cordal to the east of Castleisland.
The influence and presence of the late Con Houlihan would have drawn the attention of the station's countrywide reporters and film makers on Castleisland at that time.
And it was in 1973 that the Con inspired and scripted Wheels of the World was filmed in Castleisland and surrounding parishes by RTÉ.
On Con's Advice
It is quite possible that Con may have advised that 'Moss Tommy' be spoken to or filmed during a spare couple of hours – while the gear and the operators were in the area.
The clip featured here would have found a 'home' with Frank Hall's Pictorial Weekly evening programme – so it wouldn't have gone to waste.
I remember 'Moss Tommy' Reidy (1917 -1988) as a man who was always on the roads with a raincoat thrown over an arm or a shoulder and a case and often a satchel of books and notes flung over the other shoulder and a hat perched on the Cordal side of his head.
Happy Hunting Ground
Tralee and its surrounding areas must have been a happy hunting ground for his book sales because, as a Tralee roader, I remember encountering him going with purpose and a light step either east or west along the road on mornings and evenings.
I must find out some day soon how these gems of local history land in our laps like this – and there must be many more like it out 'there' – where ever there is.
People in the Film
Tim Keane is the young man in the clip and the deal-maker. Moss Tommy is the man with the hat and the other man remained unnamed.
There are also two young people unnamed in the film. If anyone knows who they are would you please let us know who they are.
You'll find all you need to know about the talented Moss Tommy Reidy and his prolific output with a click on the link here:  https://www.findagrave.com/memorial/131492082/maurice-j_-reidy

You can contact The Maine Valley Post on…Anyone in The Maine Valley Post catchment area who would like to send us news and captioned photographs for inclusion can send them to: jreidy@mainevalleypost.com Queries about advertising and any other matters regarding The Maine Valley Post can also be sent to that address or just ring: 087 23 59 467.